Why Gloria Jean's?
We provide a proven business model and support systems to help you establish and run your coffee house with ease! The Franchisee partnership is the perfect answer when you reach that crossroad in your life.
Serious about being the architect of the life you dream of
Ready to invest in your personal & professional growth
Ready to claim the freedom & flexibility you desire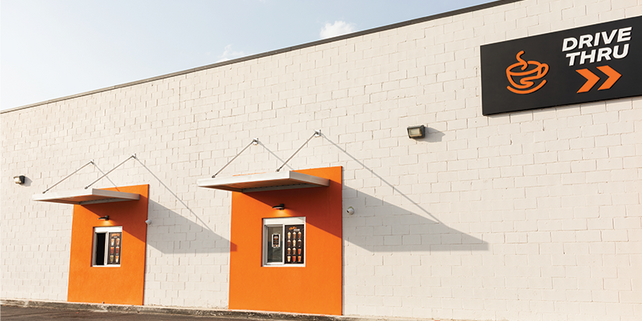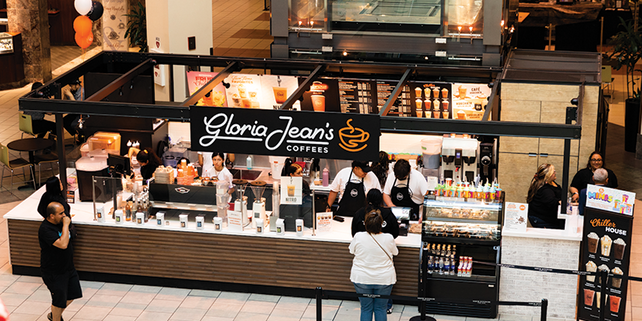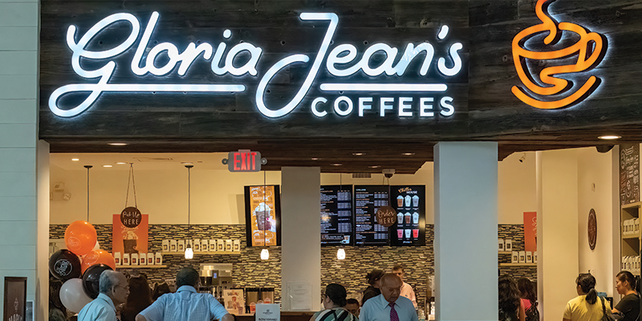 Store Designs
Make the right decision for you and select one of our engaging new store formats: Drive-thru, Kiosk or In-line.
Available Franchise Locations
New York City
Fort Lauderdale, Florida
Chicago, Illinois
Houston, Texas
Phoenix, Arizona
New York City
Fort Lauderdale, Florida
Chicago, Illinois
Houston, Texas
Phoenix, Arizona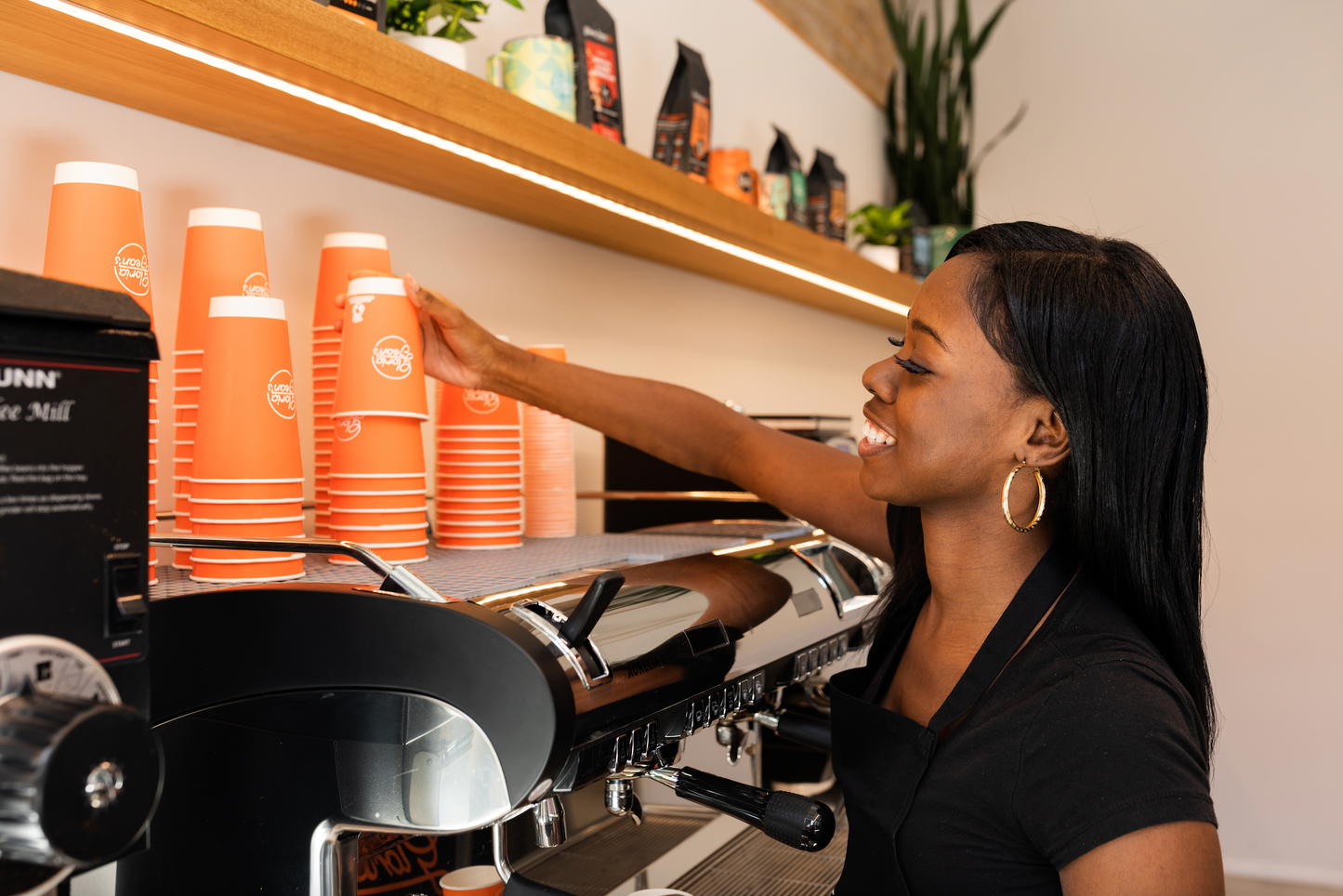 From bean to cup, be a part of a team of coffee experts, serving more than
27 million

guests every year.
Buy into an established brand
Gain the competitive edge by entering the market with an established, well-known coffee and café brand!
The Gloria Jean's Coffees experience
Beyond the café, expand the customer's journey with products they can use to take the Gloria Jean's experience home.
No industry experience? That's ok!
We offer you a world-class Franchise Partner training program, preparing you for owning one of our coffee houses.
Sophisticated supply chain solutions
We've done the hard work & setup. Ensure increased efficiency and productivity to launch your business into the future!
We value your time!
Have payroll, rostering, and HR all at your fingertips! We have streamlined your processes so you can spend more time focusing on the important tasks.
Enroll your team
Be supported by our tried and proven training programs designed to educate and inspire your team for success.
When we had the opportunity to franchise with Gloria Jean's, it opened up our world to this amazing company and to grow in an atmosphere that we love. It's a brand that's growing. It's a brand that has a lot of potential. It takes work and effort, but it's worth it. It's something I wouldn't trade for the world.
Dinah & Pablo
Franchise Partners, Texas
The Process
01 INQUIRE
Register your initial interest by reaching out today. We will be in touch with you within 1-2 business days. Then, if we're both keen to get to know each other further, we will invite you to apply!
02 APPLY
Submit your form and we'll review your application in detail. If you meet our initial criteria, we'll then arrange a mutually suitable time for a first meeting.
03 DISCOVER
This is your chance to meet the team and discover exactly what's involved in owning your own coffee house. From here we will discuss, review and assess the fit of the franchisee partnership.
04 DECIDE
Taking into account your application, interviews and our assessment, we'll then make a final decision on whether to start your franchising journey with us.
05 DEVELOP
Now it's time to set up shop, provide you with a formal franchisee approval and send you to coffee university, where you learn about our system for successfully operating a coffee house with us.
06 LAUNCH
Stock up on your sleep before the big day! Your dream coffee house is ready to roll. Our team will be there to support you during the initial stages, offering all the help you need as you start to find your feet.
Frequently Asked Questions
Since launching our first Gloria Jeans Coffees in 1979, we've worked hard to build a positive brand synonymous with delicious coffee and warm, friendly service. We've continued to grow in popularity with our extensive coffee and beverage range, which is evident whenever you walk into one of our coffee houses. It's our dedication to quality products, along with our energetic and passionate Franchise Partner family, that helps protect the strength of our brand and keeps our guests coming back for more.
No, although having business experience is always an advantage. We provide comprehensive training for all areas of your new store.
New franchisees are ordinarily granted a ten (10) year initial franchise term. This may vary depending upon the term of the lease applicable to the site.
A new Gloria Jean's store can range in price from $175,000 to $500,000.
Existing Gloria Jean's can vary in price, contact us to find out the cost of an existing store that you may be interested in.
It typically includes a fully fitted-out store, equipment, training, manuals and initial franchise fees.
A franchise service fee of 6% of your total gross sales is calculated weekly. A marketing contribution equal to 2% of your total gross sales is calculated weekly, also payable into an independently audited marketing fund.
The services you will receive covers a wide range of management
assistance and operational services, including:
On-going operational training, tools and support
Marketing support including national advertising, public relations campaigns, media selection and national media
placement
Stringent quality control standards
A Regional Manager to assist
franchisees with all aspects of daily operations
This depends largely on several factors such as the value of wages paid, cost of goods and other operating costs and generally how you operate your business. We have identified certain key performance indicators which are monitored in order to maximize your profitability.
It is recommended that you have money available to be used as working capital and we would expect you to have a minimum of $30,000. This will cover costs such as accounting and legal fees, business and public liability insurance and your initial trading stock and packaging. You will also need to budget for accommodation and living away from home expenses while attending our FPIP training program in Chicago. For a more precise list of costs please contact us.
This is a bond you may need to pay to the Landlord as security over the tenancy. This would be refunded to you by the Landlord at the end of your lease subject to meeting the terms and conditions of your agreement.
This is a financial rebate the Landlord may pay to you upon completion of your new store build.
Change your life today!
Monetize your passion for people, business and great coffee. Talk to our dedicated franchising team for more information.